General Information & Questions
What is SOLARIS | Playground 2020 ?
A unique experience mixed between Swiss Alps, electronic artists from Switzerland and around.
The site venue is at an altitude of 2'340m. Hosted at the top of Savoleyres. It offers an incredible view and great sun exposure.
SOLARIS will offer different activities as tennis table (ping-pong), petanque, baby-foot, dancing and proper chilling over the valleys.
How can I access the venue ?
GONDOLA LIFT | You can acces the site venue easily with the gondola lift from Savoleyres departure in Verbier. It takes about ~15 min. to get to the top. (gondola lift pass is included in SOLARIS ticket price and must be requested at the departure station in Verbier).
MANDATORY 

 *Make sure to wear your own face-mask in public transportation*
WALK | You can also walk the way up to the site venue. There are 4 possible itinaries to arrive at the top
via Carrefour

via Sonalon & Planards

via Ruinettes

from Tzoumaz
e-BIKE & BIKE | You can acces to the site venue with bikes and park at the top. Make sure you go down before night time and bring your own bike-lock to keep your ride safe while you're enjoying the view!
CAR | NO DIRECT ACCES to the site venue.
Here are 3 different parkings in Verbier
Parking Périn

10-15 min. bus to gondola lift

Free 24h then CHF 5 / day

Parking Marais Verts

10 min on foot to gondola lift

7 min. by bus to gondola lift

Free 1h. then CHF 2 / h.

Parking Ermitage

10-15 min. bus to gondola lift

Free 1h30 then CHF 1.- / 20 min.
How old do we have to be to enter the venue?
The legal age to enter the site venue is 18 years old. ID will be checked at the entrance.
Can I pay with cash at the venue ?
Due to COVID measures, there will be no payment by cash.
Here are the payments possibilities.
DEBIT / CREDIT cards
POST card
Where can I stay during the night ?
I have a Verbier Infinity Pass (VIP card), how can I get a ticket for SOLARIS | Playground ?
Verbier Inifity Pass gives access* to one entrance to SOLARIS | Playground 2020.
>click to convert your Verbier Inifinity Pass into a SOLARIS ticket.
Deadlines
Booking should be done latest 2 days before the day of your choice

Entrance must be before 16h00 for the day you've received your confirmation & ticket
*The general terms and conditions are applicable to VIP Pass holders.
COVID measures
MANDATORY
All participants must fill in the registration form before their arrival at the entrance.
All participants must wear their own face-mask during the gondola lift.
Keep your ticket entrance until you leave the site for check-in & check-out hours.
ON SITE
Temperature testing will be operated without contact by our staff crew.
Hydro alcoholic liquid dispensers will be at your disposale and free of use, make sure to use them as often as you can.
Open Air venue.
Weather conditions
The venue is located at 2'340m. altitude, weather & temperature can change very quickly.
Make sure to bring warm clothes in case of wind or rain and appropriate shoes.
Cancellation
Ticket holders will be informed in case of cancellation and these conditions are applicable:
EN: In case of cancellation, your ticket cannot be refunded in cash. However, you will have the opportunity to credit your customer account with the value of your purchase. You will then have the opportunity to either book a new date for the Solaris | Playground (subject to availability) – or use the voucher to purchase your ticket for Polaris 2020.
FR: Dans le cas d'une annulation, votre ticket ne pourra pas être remboursé en espèce. Cependant, vous aurez l'opportunité de créditer votre compte client de la valeur de votre achat. Vous aurez ensuite l'opportunité de soit réserver une nouvelle date pour le Solaris | Playground (dans la limite des disponibilités) – soit de bénéficier de ce bon pour l'achat de votre entrée pour Polaris 2020.
First Aid
Our team will be taking care of your emergency on site, in case of a serious situation and due to the location, paramedics will fly you to the nearest hospital.
Please inform our staff in case of an emergency.
Disclamer
SOLARIS declines all responsibility in the case of theft, accident or damage caused by negligence and improper use of the security measures in place. 
Have a Different Question?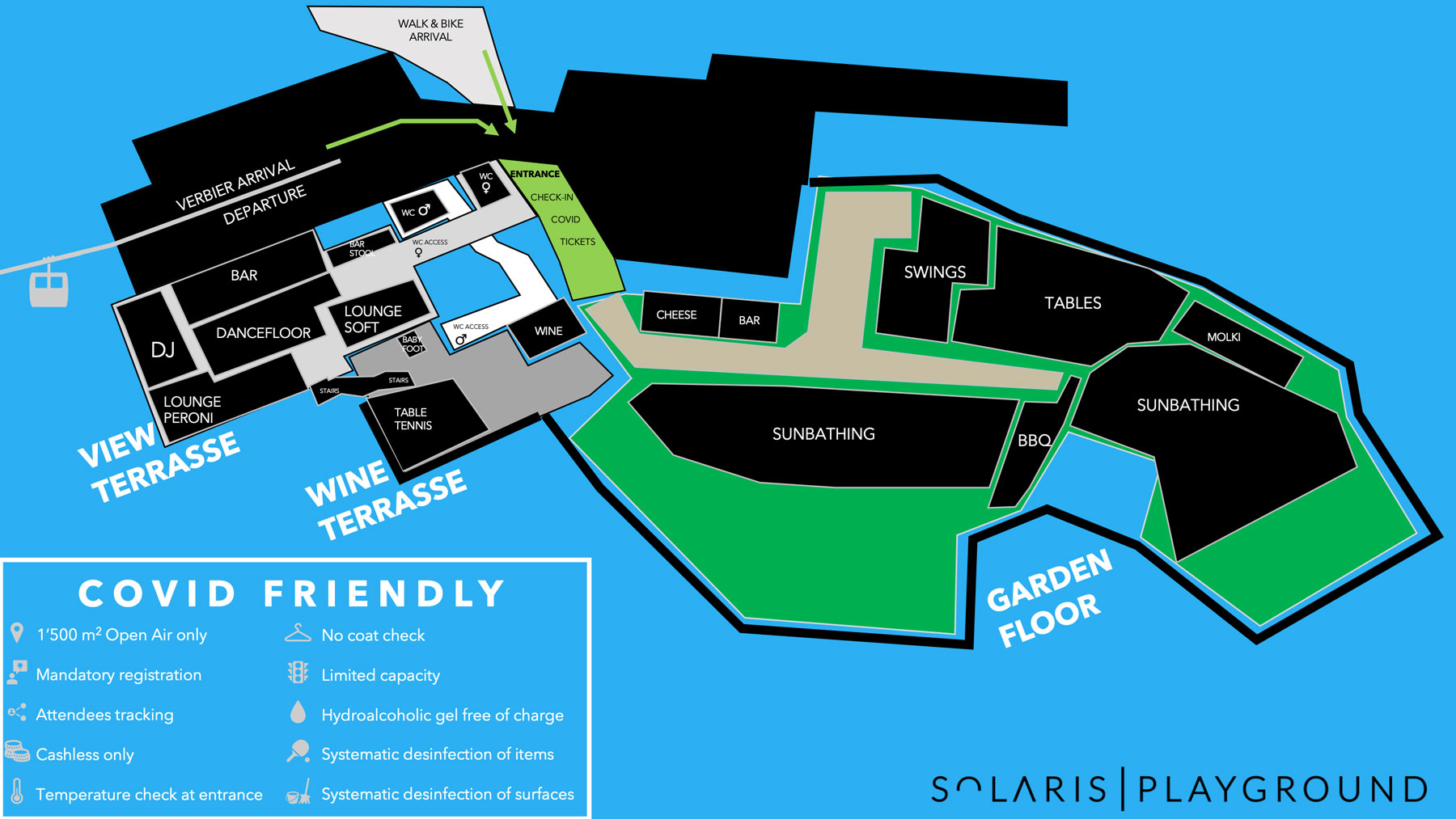 hello@solarisfestival.art
SOLARIS | Playground, Savoleyres, 1936 Verbier